It's been a long time since my last interview. We all get frustrated and burn out at some point in our lives and I am no exception.
Aya and I are always in search of new ideas. Aya loves psychology and philosophy and I am into books and art. So, when she suggested taking an interview from the creators of "Stand By Me" ( https://www.standbymehere.com) a Hollywood based therapy and life coaching start up virtual service ,I was thrilled!
Meeting Sam and Helen
I met Helen and Sam during the beginning of the quarantine, and I have to admit talking to them was like enjoying an oasis in an endless desert.
They are two young and strong, but sensitive and empathetic women in the field of mental health and life/wellness coaching. Helen is a Doctor of Pharmacy turned Certified Health and Life Coach and Sam is an experienced dual board certified nurse practitioner in psychiatry and family medicine and a therapist.
These life changers have the knowledge, empathy and determination with their combined 19 years of clinical experience to help people with anxiety, depression, PTSD, and other psychiatric conditions. They do that by giving them a customized plan to get them into action and transform their difficult emotions into empowerment in order to thrive and live their best life.
A wonderful Friendship
What I had detected by researching their background and photos on their website was the chemistry between them. I admire loyalty in friendships that ends up in a long lasting partnership that is transformed into love that manifests itself as a healing power for the benefit of others.
I sensed that and they confirmed it.
They met while working at the same company and their friendship, in conjunction with their medical background and experience, turned into a new venture: a new short therapy model based on Cognitive Behavioural Therapy and practises of mindfulness.
STAND BY ME is born
The company is called "Stand By Me" and it is amazing how people can be transformed and empowered by simply having these caring and qualified practitioners as their mentors into a three-month journey to knowing themselves and evolving deeper.
We did speak a lot about mental health issues, stigma and medication. But I am sure you are all familiar with these issues one way or another. Stand By Me aims to take down the myth that everyone needs endless amounts of therapy sessions to be well.
---
Sam and Helen
Sam is a warm person, determined from her every single word to help her patients with all her power and determination.
I suspected that she does not speak only from her experience and knowledge, but her heart.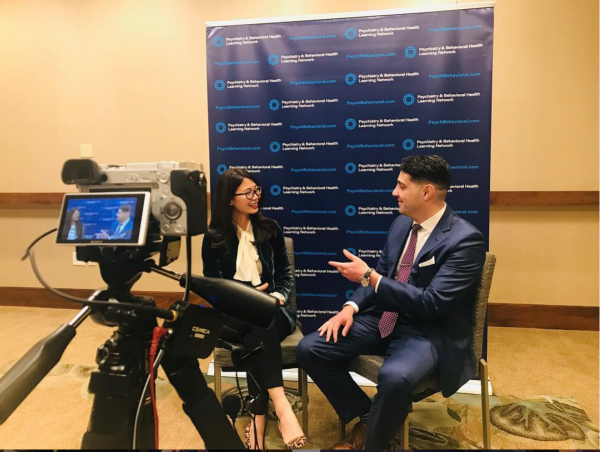 ---
She shared a very painful experience that I believe was the cornerstone of her becoming a giver and a helper.
Her father was suffering from diabetes:
"My dad was ill, and I had to spend a lot of time at the hospital. Suffering is not just physical; it is also psychological. Watching my dad suffering was my first encounter with suffering".
Sam went further by telling us that losing one of her patients caused her to withdraw for two months.
"I had to start my journey, to build up myself, to be a stronger person to support others. This deepens empathy".
And she came back stronger and she did that alongside with Helen, whose energy and positivity radiates even through the screen!
---
Helen has been trained in yoga and talk therapy to understand the mind-body connection for wellbeing. In using these treatment modalities with pharmacy, she promotes resilience and sustainable healthy lifestyle habits. When she provides wellness consultations, she practices empathetic listening and motivational interviewing to help clients identify root causes for symptoms.
They both point out that"
"Sustainability is what sets Stand By Me apart"
For Helen:
"life coaching is the biggest philosophy in the sustainability we are providing, The more you have somebody in action  during the 90 -days session the more they can physically reinforce their new beliefs"
---
They are there for their patients, accept their texts, understand them and help them grow.
They listen and empower people. Failure for them is a celebration.
"We are celebrating this milestone. If a person says "I am failing" we have something to work for"
Mental Stigma
It is a fact, for me as a society observer, that mental stigma exists. People now more than ever are facing serious mental issues given the recession and Covid-19 crisis. Let's just address the elephant in the room. People do suffer. However, although depression and anxiety disorders are on the increase, people hesitate to ask for help until it is too late due to the stigma they have to endure.
Yes, people are more open about mental issues on social media, but we have all witnessed how they are treated even by people of authority.
Sam believes that labelling can be disempowering, and the media do portray mental illnesses in a negative way.
She states:
"Stand By Me takes a spin on how we look at people in a more empowering way and focus on their health. We assess and then we move on to what their next chapter want to be"
They both believe that external factors such as medication are lifesaving and their goal is to teach their patients how to use it correctly.
---
The Innovative Triangle Therapy
Therapy is based on a triangle
Stand By Me goes  into a deep assessment of a patient's life.
Sam moves forward from the emotions that keep people stuck with evidence-based practices, such as cognitive behavioral therapeutic model, insight-oriented modality, trauma focused care and Helen practises mindfulness, meditation and emotional freedom techniques.
Both and the patient create a personalized strategy and focused coaching to take action and thrive.
How do they succeed in a three- month session?
"We tend to push more but we also provide a lot of support and create a safe place for our patients"
---
Vision
 Helen and Sam are adamant:

"There is nothing else we want to do but empower people with their daily mental practice. We want to have this momentum going".
Their goal is to build a community of people who can inspire and be inspired, to organise workshops to raise awareness.
---
Aya's last question
What is your advice to people?
"Be comfortable with the discomfort" Sam

"Recognise that to wield resistance ,first is allowing" Helen
---
Well, I definitely felt a lot better after this interview especially with the help of my dear friend Aya! Sam and Helen are determined to make this happen. To transform and empower people to be better, happier and feel more confident. Forget and forgive the past and move forward.
Who doesn't want to do that in just three months?
*Disclaimer: Since the publishing of this article, Helen has transitioned from Cofounder to Contractor for Stand By Me.
---
Samantha Lau,MSN, FNP-BC, PMHNP-BC; @mind_by_mind; Johns Hopkins University; UCLA
Samantha Lau is a planning committee member at Elevate by Psych Congress. She is also part of a private practice, a vibrant new approach to mental health, to help individuals achieve mental wellness and build a healthier and happier society. She worked as a West Coast manager and nurse practitioner in behavioral health at Landmark Health, enhancing the collaboration between physical and behavioral healthcare. She is board certified in family medicine and psychiatry.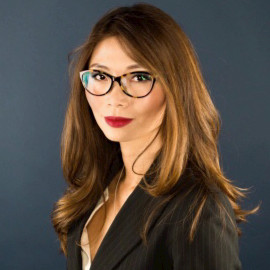 ---
Helen Lim, Wellness Coach-trained pharmacist, her  practice integrates natural therapies with medicine.While she is a trained pharmacist, her practice integrates natural therapies with medicine⁠—because the combination works. Our bodies have an amazing ability to heal itself and this has to be accounted for to have effective treatment.
She has  self studied yoga, beyond a 200 hour training program, and talk therapy to understand the mind-body connection for wellbeing. This led her to become certified in Reiki II. In using these treatment modalities with pharmacy, she  promotes resilience and sustainable healthy lifestyle habits. When she provides wellness consultations, she  practices empathetic listening and motivational interviewing to help clients identify root causes for symptoms.
She is  passionate about everyone living healthier. Therefore, she  wants to help people and herself learn more about it.