The successful play «Women of Passion, Women of Greece», in English, focused on three legendary -and mythological -regarding the last one-female figures: Maria Callas, Melina Mercouri and Medea, is now on demand at viv.gr with greek and English subtitles. The play has been performing  since 2016 at the RAILWAY CULTURAL VENUE-To Treno stop Rouf- followed by a great tour in Sidney, Adelaide,Darwin, Brussels, New Delhi and  Bangalore.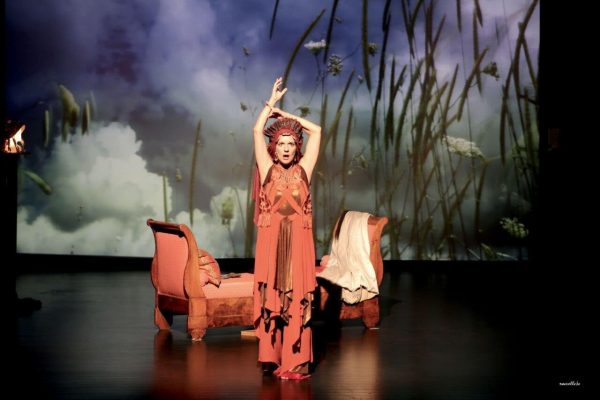 Written/Translated by Eugenia Arseni
Directed by Tatiana Ligari
Cast
Evelina Aripidi
Music: Panagiotis Kravvaris
Credits
Director of Photofrohy/editing :Giorgow Harisis
Costumes:Dora Lelouda
Musical Composition: Fotis Milonas
Lights:Sakis Birbilis
Video Design: Spiros Rasidakis
Sound: Spiris Spirou, Lampros Kanellopoulos, Giorgos Stefanakidis
Set:Danai Koureta
Make up: Artemis Ioannou
---
Plot
Aripidi's performance as Callas, Mercouri and Medea touch the hearts of all people of every age all around the world.
Medea, Callas and Mercouri meet on a train in 1950. The journey begins in ancient  and ends in modern Greece. Medea's ancient tragic figure comes across two of the greatest  greek female personalities of modern culture, Maria and Melina. What binds them together is passion.Passion for life and love, passion for creation and freedom. History, culture and art ,the force of greek soul and the fights for democracy come to life from an actress and a musician through a journey of creative memory, humour and intense emotions since Greece is the first and final destination.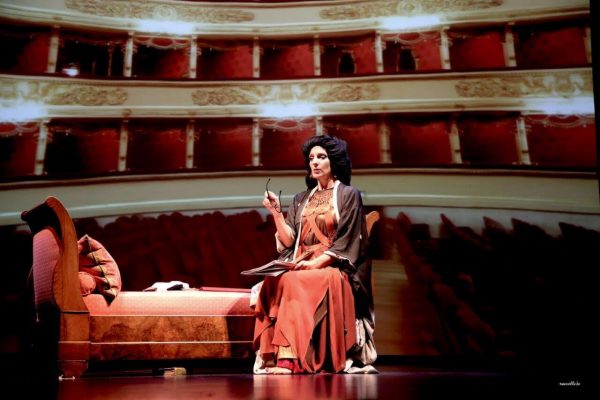 Reviews
Newcomers in Athens (10/12/2016)
…All we can say is you DON'T want to miss this performance. The location is unique, the play beautiful, the actress and musician are astounding, and … what else do you need?
ERT international (10/04/2017)
The Tatiana Ligari-directed theatrical performance of the play "Women of Passion, Women of Greece", featured previously at the Railway Carriage Theater "The Train at Rouf" wraps up this year's winter season with an Australian tour on the heels of a successful cycle of performances.
Jenny Arseni's English-speaking play, watched by the President of the Hellenic Republic, Mr. Prokopios Pavlopoulos, foreign ambassadors and dignitaries, audiences of various nationalities, as well as by collectives and women's associations operating in Greece, Greek expats, Greek and international students, will be performed in Adelaide, in Sydney's Greek Festival and in Darwin, the capital of Australia's Northern Territory, home to the Aboriginals…
Darwin Entertainment Centre (28/04/2017)
Last night…. Women of Passion Women of Greece, never compromise! Start of our theatre season with a gorgeous cast and crew straight from Athens. Spectacular imagery, beautiful live music and a powerful solo female actress, great show!
THE HINDU (9/3/2018)
…the productions were deeply rooted in great cultural history of their country. Watching these productions was a breathtakingly aesthetic experience…
…She narrates the life story of three great women of Greece, who occupy significant place in the history of Greek culture and politics in an unpretentious style which touches the hearts of the audience

Duration: 60΄
Ticket : 7€
You can book you ticket and stream the show at:
https://www.viva.gr/tickets/streaming/theater/women-of-passion-women-of-greece/
TRAILER
https://www.youtube.com/watch?v=f_ha7GLG4vg
Find us
www.totrenostorouf.gr
https://www.facebook.com/trenostorouf
https://www.facebook.com/Women-of-Passion-Women-of-Greece-1787901708092567
https://twitter.com/ToTrenoStoRouf
https://instagram.com/ToTrenostoRouf